The Chameleons
This is an archive of www.chameleons.org as it appeared on 5/1/2018, just before conversion to WordPress, with the addition of some more recent items to the Scrapbook. - Eliot Mayer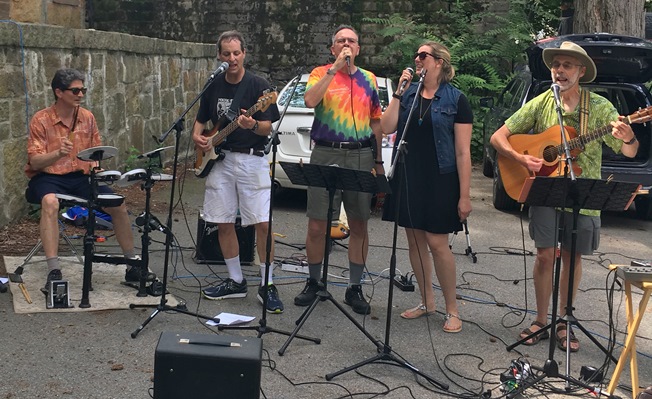 At the 2017 JP Porchfest - Jeff, Eliot Phil, Becky, Bob.
We have since been joined by Boyd on pedal steel guitar.
The Chameleons are an amateur musical group in the most noble sense of the word. They play music just because they love to play music. The group originally formed in 1997 to provide music for the Chelmsford Winterfest in Chelmsford, MA, and played at this festival every February through 2012. The group's other regular gigs were the Martins Pond Summer Festival in North Reading, MA, and Musical Tapestry Night at TEMV in Lowell, MA. On July 8, 2017, they made their first Porchfest appearance at the Jamaica Plain Porchfest (video links are in the Scrapbook).

Depending upon the setting, The Chameleons play folk, rock, children's music, or some combination of these styles. This group is not in any way affiliated with the British group of the same name.
---
---
---
Chameleons Music Online (Home Studio recordings updated 3/22/08)
---
Our Song List
(past, present, and near future)
---
Site Updated 5/1/2018 - Added "A World Without Love"